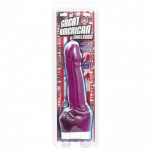 $69.05
Product Review (submitted on August 20, 2013):

The material he's made out of is softer than most dildos I think so it was easier to pop him inside me since the head isn't too hard. His size fills me up completely and it is literally, like, the best feeling (especially the way his balls rest on my perineum when he's in as far as he can get). I find it difficult not to cry out when he hits "that spot".

I wasn't too fond of the plastic bags they sent him in but he didn't look damaged or oily or weird or anyting like some reviews claim. He does have that awkward dildo-ey smell at first but what dildo doesn't smell weird at first?

Overall, he's an absolute joy to play with. I've had him for 3 nights now but I've used him more times than that already!
You may also be interested in the following product(s)
| | | | | |
| --- | --- | --- | --- | --- |
| | | | | |