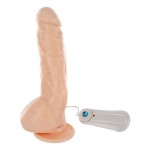 $21.34
Product Review (submitted on August 20, 2013):

I have had more than a few toys in my time, most of which I have had to throw away because my latex allergy has become too much to even bother with covering these things with non-latex condoms, anymore. Sexflesh is by FAR the most lifelike (anal penetration) feeling I have ever experienced from any toy, and I have had far more experience with the real thing for comparison than I care to recount here, tyvm. Potential buyers should know that the texture and give of the material is much more like a real penis than other toys and therefore is nowhere near as difficult or painful to insert. In effect, it does not feel as large as it would if made of another material. However—and it's a huge however—the feel is so much more pleasant that it's astounding. This large size may not be for you. Make sure you begin with one of their products that sounds right for you; though you can probably go slightly larger than you think, if you like that as I do. [I'm not a size "queen", just a big guy who requires larger for adequate sensations, not to mention that solo play is more work and therefore not quite as easy to get the best stimulation.]

I highly recommend this product. Even the suction cup works many times better than with other materials. I was able to stick this guy to the tile in my shower and it supported the rather substantial weight of the toy, a task at which most other toys fail. I have not yet experienced any wear and tear, yet I assume that as with any flexible toy it only has just so much durability and will eventually fatigue, especially at the junction of the suction cup. That's normal. Be smart with your toys. Washing them with soap and water to keep them clean will greatly prolong their life. Avoid strong detergents like Dawn or bathroom cleaners, for they have other solvents besides basic detergents that can break down a multitude of different kinds of materials—that's what they're designed to do, after all. Alcohol will harm certain materials, too, so don't use disinfectant sprays or hand sanitizers. Simple soaps will kill pretty much anything with which you should be concerned if you're letting the soap remain on the toy long enough to perform its function. Play safe. Have fun.
You may also be interested in the following product(s)
| | | | | |
| --- | --- | --- | --- | --- |
| | | | | |