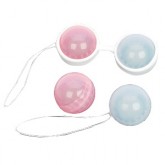 $69.89
Product Review (submitted on June 4, 2013):

These arrived in the mail and I promptly opened the box. I was suprised at the size of the blue ones, but promptly slipped one in and oh my the instant feelings were amazing.
I was on my way out for the day so just used one, I got so wet so fast it slipped out! A shock to me so I popped it back in and tried to hold it. When I got home I got the second one to see if that would help keep them in place but it slipped out. BUT one for now is great and I need to work hard to get the muscles in shape to hold both in. I had my uterus and cervex removed for pre-cancer and should have gotten these amazing toys years ago. Just bought a set for my best friend for an additional xmas gift.
You may also be interested in the following product(s)