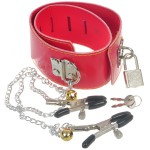 $9.21
Product Review (submitted on April 13, 2013):

The necklace itself doesn't feel very sturdy, however, it is soft [almost like a foam] and big enough for almost every user.

The chain is good. Thickness is good, no sharp edges, long enough.

The clamps are also good. Rubber mounting is good, and the screw to adjust the force feels sturdy as well. You can disconnect the clamps from the chain.

You may also be interested in the following product(s)