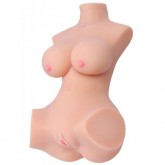 $95.85
Product Review (submitted on November 26, 2018):

thickness 7 inches), consistent with the torso of a very petite adult white female with C or D cup breasts and nice hips/buttocks . Excellent sensation in both vaginal and anal openings, use a water-based personal lubricant like I-D Glide.

After cleaning (consider using a turkey baster to clean inside with soap and water or antibacterial toy cleaner) use cornstarch baby powder to keep the outside from developing that rubber sticky feeling. I use an old pillowcase to store the doll, and fluff the baby powder around inside to coat it.

Only "cons" (if you can call them that) is that it is:

1) Heavy (stated weight of 26 pounds sounds right). This is due to its solid rubber construction, so it's not really a concern for me;

and

2) Kind of floppy, as there is no internal reinforcement. However, also not a problem if you are positioning the doll in missionary or doggy.

Overall, excellent item, and would highly recommend.
You may also be interested in the following product(s)
| | | | | |
| --- | --- | --- | --- | --- |
| | | | | |