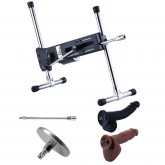 $455.99
Product Review (submitted on August 17, 2018):

We received our machine on 5 April 2018. It worked great until last night. While using it, in the same manner we have many times before, it suddenly stopped (completely shut off) on us numerous times. The wife was very disappointed, as was I.

UPDATE: Hismith customer care reached out to us very quickly after our email to them. After asking one question they have decided to send us a new power adapter and speed controller. We hope this eliminates the problem. If nothing else, their customer care department is very prompt and willing to do whatever it takes to fix the issue. That's worthy of going from one star to three. Stay tuned for more updates.

2nd Update: Hismith sent us another machine which we received last night. While it is understandable for things to fail I can confidently say that Hismith's customer service did not fail! During this entire process they have been timely in their communication and stood behind their product 100%. Based on that I have changed my rating to 5 Stars and would definitely recommend any of their products to anyone.
You may also be interested in the following product(s)
| | | | | |
| --- | --- | --- | --- | --- |
| | | | | |