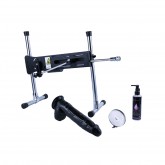 $445.99
Product Review (submitted on July 5, 2017):

Just got this -- nice! I was impresssed with the clean, professional look (including the packaging), overall a nicely designed device. Strapped my girlfriend in for a ride and she had a blast. Much nicer than the previous device we had ("Toolbox"), which looked like something someone made in their garage. Very smooth and quiet operation. Speed adjust is smooth, via a dial (vs low-hi switch for other device), and the speed range is very good, from very slow (good for getting position and thrust length right when getting started) to pounding her brains out. Adjusting settings (thrust length, angle) are quick and easy (no tools required). Definitely recommend the vac-u-lock adapter (I had to make my own for the other device).

It's very easy to assemble (and disassemble for storage). It would be nice if they offered some kind of storage case for it, as I'm sure whatever I come up with will not match the refined look of the device.

Highly recommended!
You may also be interested in the following product(s)
| | | | | |
| --- | --- | --- | --- | --- |
| | | | | |