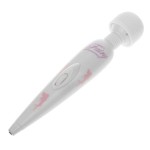 $17.05
Product Review (submitted on February 14, 2013):

This vibrator's great because A. its sturdy and way better quality than most vibrators. (The 2 speeds are great and both have a lot of power, it just depends what kind of mood I am in) and B. it looks great. It is very discreet and if my mom found it in a drawer, it could be easily camouflaged because it looks like a mini massager.

When I first got it, I charged it up to make sure I was getting a full battery (wasn't sure how long it would last on a charge, I don't have any others that have a built in battery). I have used it on 4 or 5 occasions and have yet to re-charge it. It's super convenient that you can plug it into an iPhone AC adaptor (those iphone charger thingys if you just take out the iphone usb cord) or any other USB AC adaptor. The color, texture of the head, and overall weight/size is perfect.
You may also be interested in the following product(s)
| | | | | |
| --- | --- | --- | --- | --- |
| | | | | |