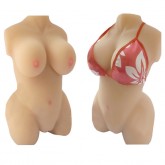 $155.21
Product Review (submitted on June 12, 2015):

Pros : material is good, could be prone to wear n tear but as long as you powder it, clean with properly should last a while. Experience itself is great, with proper water based lub the orifices are just about perfect.

Main con is the clean up is a pain, partly because the inner orifices aren't connected so any liquids inside will stay there unless flushed out and product upright to drain, with airflow for evaporation. Also unless you are stabilizing it, won't stay upright by itself (no internal skeleton or other support). it has a definite aroma to it that is almost overpowering, I've washed twice and it's still on my hands. Definitely will need to air out your room when using it. Glad I live alone!

Other thoughts: overall very happy, product was what I expected (aside from the smell), so far worth the $$. Important to note the dimensions, this product is small, child size but with adult features. Everything is proportionate, just in miniature. Comes in bubble wrap, in plastic bag, and product box, delivered in discret shipping container. No cleaning instructions included. Use corn starch to keep material soft n smooth, warm water thoroughly and pat or air dry.
You may also be interested in the following product(s)
| | | | | |
| --- | --- | --- | --- | --- |
| | | | | |