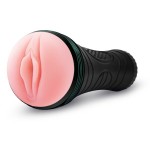 $24.63
Product Review (submitted on April 12, 2013):

Best The Fleshlight. i have had plenty of women in my life, and in the middle of a dry streak with my girl dumping me. close your eyes and you wont know the difference. warm, wet, wild. fantastic. worth every penny. easy to clean easy to care. slightly bulky but so what? you only need one or two of these a week and you walk around like you got laid :-)

also, do NOT listen to the negative reviews, if you have a smaller than average penis i can see how it would not be good, this is built for AT LEAST average, really you need to be a lil big to enjoy it, but it's good. worth the money, if you're good and long you can DEFINITELY feel the tightness, it's in the tip of the fleshlight. so good it makes your orgasm kind of, stall, experienced people will know what i mean. with a hand it comes out easy, a vagina or THIS makes it.... lol STALL is the best way to put it. very good feeling.
You may also be interested in the following product(s)
| | | | | |
| --- | --- | --- | --- | --- |
| | | | | |