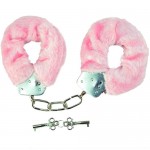 $14.04
Product Review (submitted on September 3, 2014):

strong. comfortable. really truly the best restraints my fiancee and i have tried.
they adjust small enough to fit her wrists (shes VERY tiny. ~100lbs) and hold her in, and yet also can hold me in just as well. A first for us- no other restraint we've ever used has been adjustable (and comfortable and secure) enough to hold her or me. LOVE them. money well spent.
You may also be interested in the following product(s)