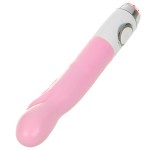 $19.04
Product Review (submitted on August 20, 2014):

Okay, ladies, you can take this review to heart, because it's always been very difficult to make me orgasm. When I read the woman's review about how it made her squirt, I thought this may be the one for me.
Oh. My. God. Within the first MINUTE of using the vibration and rotation on high speed, I was orgasming and going crazy. It is hands-down the best vibrator I've ever tried. And for the price, you cannot beat it. Afterwards, it primed me even further for sex and it was absolutely amazing!!!
Buy this toy!!! You will not regret it. My legs are still shaking.
You may also be interested in the following product(s)