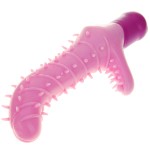 $18.45
Product Review (submitted on August 19, 2014):

I have to admit- I've had quite a collection of toys over the years (my best friend works in an adult shop, and sends me one for christmas and birthday every year), but this is by far my favorite. It is, for me, the perfect size, and I love the way the speeds adjust (the main part doesn't vibrate at all, but in fact picks up the vibrations from the two smaller pieces, which each have their own speed adjustment). I love it so much, I threw out all my others, and use only this.
The only thing about it I don't quite like is that the battery compartment comes open at the slightest movement, although it is easily remedied with a rubber band (it's more that I find it irritating to need one).
It does not rotate, as another reviewer pointed out, so if that's important to you, look for something else (like a rabbit, maybe). But I don't miss the rotation at all, so if you don't care about that, give this good ol' boy a try.
You may also be interested in the following product(s)
| | | | | |
| --- | --- | --- | --- | --- |
| | | | | |