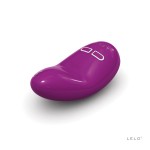 $81.99
Product Review (submitted on August 16, 2014):

It took me a while to finally break down and buy this toy. I did ALOT of research like reading all the reviews and looking at videos. Finally, I broke down and ordered it from here.
Now when I opened the box, which was so nice, I already knew the toy was going to be small. But it's a lot smaller than you think. The length is about as long as a q-tip! I was disappointed, thinking the size would mean little power. Boy was I wrong!
Now if you enjoy the Hitachi Wand, then yes, this tiny buddy is NOT FOR YOU! I didn't care for the Wand because I thought it was too strong, and the Lily turned out to be perfect for me! Plus, it looks nothing like a sex toy, so if you leave it out, there's no explaining to do if someone sees it. The whole package is beautifully done and plus, there's a warranty on it. The only down fall to it is the size makes it harder to hold on to when it is turned on high. Also, it is no where near water proof, so it has to be kept dry. But the power makes up for the size.
You may also be interested in the following product(s)
| | | | | |
| --- | --- | --- | --- | --- |
| | | | | |