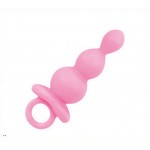 $6.25
Product Review (submitted on August 14, 2014):

"I wouldn't call myself the anal queen, by any means. I've got a fair selection of plugs, sure, and my partner and I like doing anal together, but by no means am I an expert or anything like that.
I got this sent to me as a gift, hence the lack of ""verified purchase"" above this review. All of my most comfortable plugs are smalls, so I figured, this would settle in nicely with the rest of my collection. But it's actually very, very small. I have small hands, and the entire length of the plug (tip to end of ring) is shorter than the width of my palm. The actual insertable length is probably about an inch, MAYBE an inch and a half. I'm not good at visualizing dimensions just by reading them, so I put this on my wish list without realizing JUST how small it is.
Another thing to note, is that the plug at its widest, and the part where it goes in (where your butt will hold it in) are not drastically different in size. It's possible that I used too much lube, but for me, this plug slid right out almost right away if I wasn't positioned in a way where my butt cheeks held it in. So, obviously, if I were to attach a tail to this, it's likely that the weight of such would tug it right out, as well. I'll be upgrading to a medium.
On the positive side: This plug is very well made. I've seen complaints about a seam, but I did not feel one, and had to look extra hard to even see one. I have my doubts about this being an issue in any way for most people. That, and the material is smooth, and easy to clean.

I personally rate my liking of this product as a 2 or a 3 star out of 5, but the quality of the plug itself is definitely a 5 out of 5. The small just is not a good fit for me. But if you are a beginner, I would absolutely recommend you give it a try"

You may also be interested in the following product(s)