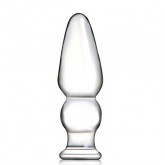 $11.75
Product Review (submitted on August 14, 2014):

"I would recommend this set to everyone that wants to experiment with anal or even want to make future experience much more pleasurable and obviously much easier.

The small size is really small, but for a complete beginner, it's perfect to start with.
The medium will probably be your favorite, it's the perfect size for a butt plug.
The largest size, while big, is also great for those with well endowed partners. Other reviews have said that this size is too big compared to medium, but I don't think so. It is much bigger, but it doesn't take away from what it's suppose to do.

What I really love about these is that they're firm, but not too firm and they're also very smooth.
The shape of them, with being smaller at the top is great for anal training, but for use with a male condom, it can be a little uncomfortable since a condom can fold on the top. So, it would be better to use a female condom instead if you're going to use one.

My advice with these is to be relaxed and comfortable. Never ""push through the pain"" or you could cause some damage. There's muscles down there that will relax naturally and can be trained by using these. Just take it slow and progress when you feel ready to. With these though, you'll be surprised how fast you'll be ready to!"

You may also be interested in the following product(s)
| | | | | |
| --- | --- | --- | --- | --- |
| | | | | |