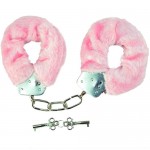 $14.04
Product Review (submitted on September 23, 2013):

After having enough of uncomfortable fun with metal handcuffs, I decided to invest in these. No more feeling silly with fluffy handcuffs around my wrists!

I opted for the pink ones, which are a beautiful bright colour. Just what I like in my naughty drawer. :) Though my boyfriend would have liked them more if they came in a manly colour for when he's tied up.

Once I was restrained these held me in place perfectly. I wasn't sure the Velcro would hold but it really does. The metal handcuffs I have used in the past had an annoying habit of opening all on their own. Not a problem with these!

The best thing about them though has to be how comfortable they are. I can wriggle around as much as I like without anything digging into my wrists.

These are easy to undo when you are wearing them so if the thought of being restrained makes you feel slightly panicky these are perfect for you.

I highly recommend these to anyone who enjoys soft bondage or anyone new to bondage.

They are a fantastic set of handcuffs!
You may also be interested in the following product(s)
| | | | | |
| --- | --- | --- | --- | --- |
| | | | | |