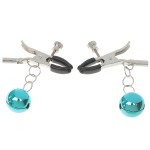 $6.11
Product Review (submitted on September 23, 2013):

I received mine this morning, fantastically prompt delivery, as usual, after having sent a teasing text to my boyfriend. I was sooo excited about trying these out, as he loves to torment my nipples and wants to "educate me" in nipple torture, so I thought these were a good starting point.

I loved the idea of the clit clamp as I have MS, which means I have reduced sensitivity and it takes me a LOOOONG time to cum... Not anymore though! I easily slipped this bad boy onto my nips and then the other over my clit, using a little lube, and adjusted the tension... seeing how much I could take.

So thank you SexToysBrand for helping me get the full satisfaction from sex again, can't wait to try it with my boyfriend. A little tip, when you remove the clamps, take a deep breath and breathe it out as you SLOWLY release the pressure and remove them.
You may also be interested in the following product(s)