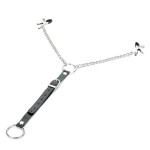 $11.34
Product Review (submitted on September 23, 2013):

Absolutely love Nipple Tip Clamps!

I could control the intensity of them, use them with or without the clit clamp and liked the noise they made when I moved around.

I also liked that you could hold on to the chain to further increase the intensity. This is one of my favourite items!
You may also be interested in the following product(s)