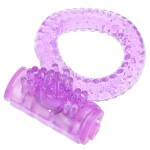 $3.92
Product Review (submitted on March 16, 2012):

I purchased this because how it confines the balls and the shaft. I agree the other reviews about how the how loose the the ball ring was. I decided to twist the ring and put it over the ball under the shaft once again. Problem solved. Very confining yet still comfortable.

I have used other cock rings every now and then. Except for the fact normally they make me harder longer, they normally for my pleasure and little bout hers. Let me tell you, this one is for her too! First, she had already orgasm earlier. So she was raring to go and she help me put it on. CAUTION: SHAVE FIRST! She loved how hard it was. Glad she thought that because it is a little ridiculous looking. It was like I had had a pink bow above my penis and easy to laugh at. If you have ever used a bullet or a vibe and wedged it between you and your lover, this is similar but easier and feels a lot better. Every time our bodies collided we both felt the rewarding vibrations. It mean to tell you it was SO HOT but we had to stop. She is normally the quiet one but she couldn't keep it down in her ecstasy. I finished from behind and she said felt good with it also.
You may also be interested in the following product(s)