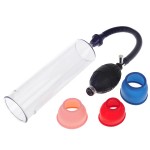 $13.93
Product Review (submitted on September 14, 2013):

This is a great pump for a beginner. The size worked very well for me. It was close to my actual measurements (slightly bigger than average), so it was very comfortable and allowed me to safely introduce myself to pumping.

The pump's mechanism is basic, so structurally, it limits you in terms of the amount of pressure you can generate, but this is very good for beginners so they can learn what is safe/comfortable.

I soon stuffed the tube and had to purchase from a higher quality company with options for sizing. In other words, with a dedicated routine paired with specialize exercises, I made permanent gains with this pump (use with routine for minimum of 30 days to see permanent growth; the longer you use, the more you will gain). If you're looking to do the same, pick one up for yourself, especially for this price!!!
You may also be interested in the following product(s)
| | | | | |
| --- | --- | --- | --- | --- |
| | | | | |