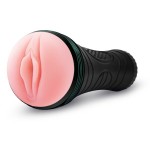 $24.63
Product Review (submitted on September 9, 2013):

So I wasn't sure exactly what to expect when I bought this, thought maybe every now and again "treat" myself when the girlfriend's away. Well lemme tell you, it beats the hand by a long shot. The sensation is way more intense. Also I've read where others have a problem with the opening at the other end, if anything it's a good thing. This allows for an open end approach, another where you can close the end by either pressing the end like a water hose or sticking your finger in the end and also provide for an easier way of cleaning the product.
I also read where cleaning the older models required turning it inside out and would cause advance wear and tear. This product isn't that hard to clean after "use". Storing I would say is the only issue I had as I was afraid the material would attract hair or dust so immediately after use I'd place it back in the box with the end open to allow for a little drying. I don't know if this is the best way as I've only had it for a week.
The length? Well being about the average I'd say the length is fine for me. Unless you've been with someone that's a bit more talented than the norm you're not really going to use the entire sleeve.
The smell? Not that noticeable to me and even if it was strong isn't unpleasant.
The color? What, are you going to be showing this off to someone? Use it in the dark if it's a problem.

I think one thing that's important is don't use it every day. Certain pleasures can be burnt out. Let it be your chocolate chip cookie at the end of the day or the indulgent rock out session in your car.
You may also be interested in the following product(s)
| | | | | |
| --- | --- | --- | --- | --- |
| | | | | |