Quality

Price

Ease Of Use

Usefulness

Shipping

Oh the tough decisions of life!

Review by

Clarissa

9/10/14

We love these packs here, it comes in a sleek silver box that is discreet even in plain sight. Its packed with different styles from the Durex brand. You can use this to try out a majority of the styles and see what you and your partner prefer or you can use this pack for a completely random choice when things get going. We've been using these packs for a couple years and have not been let down. We won't use any other brand but Durex and for the price, these packs are budget friendly. Do yourself a favor and try these, wont regret it.

Quality

Price

Ease Of Use

Usefulness

Shipping

Great Bachelor/Bachelorette Gift!

Review by

Clarence

9/10/14

This is a great gift for a bachelor or bachelorette party! Perfect if you pair it with lubricant and/or some lingerie. Very easy to wrap since it's a box. This is a great honeymoon gift since it gives the bride and groom a lot to experiment with to find what they like best, great for inexperienced couples if they aren't sure what type of condoms to use, etc. Make sure to include a saucy card!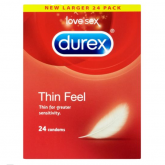 $27.96
You may also be interested in the following product(s)
| | | | | |
| --- | --- | --- | --- | --- |
| | | | | |