Quality

Price

Ease Of Use

Usefulness

Shipping

Wonderful Fun, Worth Every Penny!

Review by

Allen

8/12/14

I love this product! It is one of the fastest orgasms I have ever had, and quite strong too, and that is with only the product, no extra help from the mister. We haven't tried it out and about as foreplay on a date in public yet, but I can't wait to go out somewhere to have some extra "fun".

Aside from the noise level, I highly recommend this product. I have another similar one, the Club Vibe by OhMiBod that while slightly comparable is not made with the same high quality material, has fewer and less tantalizing preset options for vibrations (I was QUITE pleased with the ones on the Tiani 2) and is overall less usable since the remote must be pressed, where as if not on a preset mode, this one is simply run by the movement of the control.

Also, it comes with a 1 year warranty if you register online (and it has this little card that gives you your specific products registration number and declares authenticity of the product) along with a 10 year guarantee that the product will not break due to a manufacturing problem. All in all, I think this is a much better deal than even a cheaper toy, because you get assurance that your toy will last and that you will have a fabulous time with it too!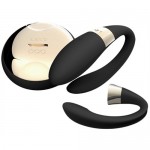 $168.79
You may also be interested in the following product(s)
| | | | | |
| --- | --- | --- | --- | --- |
| | | | | |