Quality

Price

Ease Of Use

Usefulness

Shipping

Yes, just....yes 1) Power 2) Quiet 3) Comfortable

Review by

Darcy

8/15/14

My girlfriend and I absolutely love this toy. The first time she tried it she literally had convulsions because she was in so much ecstasy. The silicone is unbelievably smooth, the settings and power level choices are manifold and what's best: it's virtually SILENT. The power in the rabbit tip is perfect and it's not too close or too far back on the larger shaft, so it can target internal and external pleasure simultaneously without discomfort.

You won't go wrong with this if you're buying it for yourself or as a gift for someone else. We have 3 other vibrators and use none of them now.

Hands down, one of the best purchases we've ever made.

Quality

Price

Ease Of Use

Usefulness

Shipping

Mind blowing!

Review by

Bob

8/14/14

My wife picked this out because it was pretty. Little did she know she would grow addicted after one trial. Her experience has been nothing short of mind-blowing for both of us. 14 years of marriage and many toys later and this thing trumps them all. Worth every penny. I'm not exaggerating when I tell you she achieved double digit orgasms her second time trying it - on the lowest setting! Absolutely amazing!

Price

Quality

Ease Of Use

Usefulness

Shipping

AWESOME!

Review by

Amanda

8/20/13

I would highly recommend this to first time sex toy buyers! Works great and does it's job if you know what I mean! When I received it in the mail it was also very discrete so that was also a plus!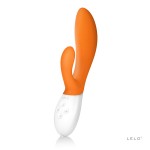 $178.77
You may also be interested in the following product(s)
| | | | | |
| --- | --- | --- | --- | --- |
| | | | | |