Quality

Price

Ease Of Use

Usefulness

Shipping

Couldn't be Better!

Review by

Burke

8/14/14

If you're into double vibrators, here's the only one you'll ever need. EVAR.

Ina 2 by Lelo is not only a good lookin' vibe for the style-minded among us, but it's capable of giving off some super strong vibes and its curvy design is a great fit, too! I love the color, the buttons are simple and placed perfectly so there's no fumbling involved while you're trying to enjoy yourself.

I owned the original Ina and loved it, but when I heard there was going to be a sequel, I had to snatch this up. I heard that there was more power, and that was enough for me as i loved my first Ina so much but wanted the extra vroom. It does not disappoint when it comes to power! what i didn't know however was that this second version of Ina has been redesigned a bit, with the shaft made longer, and the flexy clitoral massager put farther down the shaft. based on the original i didn't think Ina needed a change in design, but it's truly an improvement, as the toy can now go deeper, along with the improved power.

another new change from the first Ina is that Ina 2 is waterproof. I suppose that means you could take it with you in the shower or tub, which i haven't done yet but it makes cleaning up really much easier than the first Ina.

I imagine I'll get a few years enjoyment from Ina 2, but when Ina 3 finally comes around I'd love for the main shaft of the toy to be a little flexible, like the clitoral massager. that'll have to wait though, because in the meantime I'll be too busy enjoying Ina 2, and you will too!

Price

Quality

Ease Of Use

Usefulness

Shipping

Wow works great

Review by

Boatnut

8/20/13

My wife is in love with this. She uses it while we are doing anal and it drives her crazy.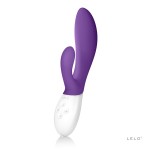 $162.77
You may also be interested in the following product(s)
| | | | | |
| --- | --- | --- | --- | --- |
| | | | | |