Quality

Price

Ease Of Use

Usefulness

Shipping

Loving It!!

Review by

Hiram

8/18/14

This item has been wonderful...the fact that it is SO quite is amazing and I am loving it and enjoying it a lot. I would recommend t to anyone looking for new levels of enjoyment.

Quality

Price

Ease Of Use

Usefulness

Shipping

First Use Review

Review by

Hilary

8/18/14

Paraphrasing, as someone recently told me; all of these devices get the job done but if you are expecting an overwhelming response...don't. With that premise understood, this device did get the job done, but developing skills takes patience and practice...practice...practice.

Take care when storing this, as it can turn-on easily. It comes with a box stand that contains operating information inside, after withdrawing the item. Use the stand as a cover to prevent accidental operation. It is not whisper quiet, but reasonably quiet. Using any alcohol cleaner will damage the skin, so ensure toy cleaner is free of alcohol. Use only water based lubes as silicon lubes damage silicon/silicon-coated products.

It is smooth and does have a soft feel, surprisingly for hard plastic. Its head is about one-inch wide, which should be the perfect width for massaging and stimulating the Skene's gland (rough patch). The bend appears to have the correct anatomical curve.

You hold down the top button for several seconds to turn it off, while the bottom button turns it on. It has strong vibrations and too many patterns and pulses to describe. A standard sized condom covers it entirely. I suspect those desiring additional width and stimulation could buy a ribbed masturbation sleeve and slide it past the control buttons...now that I think of it.

In my opinion, it is cute. I like the royal purple color...for giving her the royal treatment I suppose. Rather than spend more on the rechargeable battery version, I propose you will appreciate this lighter-weight model. Although, if the price were lower I suspect this product would fly off the shelves.

Quality

Price

Ease Of Use

Usefulness

Shipping

Doesn't hit my g-spot but still fun on the clit

Review by

Emily

9/10/13

This toy doesn't quite reach my g-spot so I mostly use it on my clit like a normal vibrator but it works well and the batteries last better than other vibrators I've had. I also like that you can turn the intensity up or down.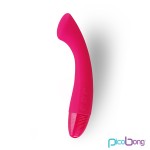 $51.73
You may also be interested in the following product(s)
| | | | | |
| --- | --- | --- | --- | --- |
| | | | | |