Quality

Price

Ease Of Use

Usefulness

Shipping

Amazing seller and quality.

Review by

Caldwell

9/3/14

I ordered this from them and saw it was less than $50. I figured I would get it just to try with my girlfriend. By the price I figured it would be crappy quality, but it was the exact opposite. I feel they could easily sell this for more if they wanted to. Also, I appreciate the surprise gift inside. I happened to do business with them again!

Quality

Price

Ease Of Use

Usefulness

Shipping

Nice Firm Leather

Review by

SexBox

9/23/13

We have a few spankers and whips but this is our first flogger. It is quite small but the leather fronds are quite thick and stiff. They have that lovely leather smell too.

It is well made and is very easy to control, either soft or hard enough to really hurt. In particular it will leave lovely red marks with not too much pain, but they disappear quite quickly so you can whip somebody all over without leading to embarrassment in public the next day (unless that is what you want of course!).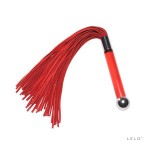 $44.49
You may also be interested in the following product(s)
| | | | | |
| --- | --- | --- | --- | --- |
| | | | | |