Quality

Price

Ease Of Use

Usefulness

Shipping

Worth every penny

Review by

Calantha

9/3/14

I have not used this item yet on anyone but myself to just see how it felt.

It felt nice to me and I love the cute bonus gift that came with it.

Thank you :)

Quality

Price

Ease Of Use

Usefulness

Shipping

Sensational!

Review by

Darkdruid

9/23/13

This was the first flogger that we have tried. It is without a doubt our favourite toy, simply because it is capable of such varied sensations. Draped over the skin (especially with partner bound) it delivers glorious, light tickling sensations. Alternate this with harder strikes (which are never painful) and it becomes an extremely sensual experience.

As mentioned, this is not a painful implement, giving a slight sting even with the hardest strikes. Visually, however, it certainly does the job and will redden the skin of the recipient, whilst giving them the most delicious feelings.

I would definitely recommend this to couples who are just delving into BDSM play as well as those who have some experience. Love it!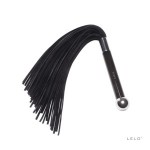 $44.49
You may also be interested in the following product(s)
| | | | | |
| --- | --- | --- | --- | --- |
| | | | | |