Quality

Price

Ease Of Use

Usefulness

Shipping

Luxury bondage product that feels amazing!

Review by

citygirl

9/23/13

The cuffs feel amazing when on, the lining is comfortable and they look fantastic. They're not just pretty though, they're functional too and can be used to restrain someone to beds, chairs, tables and much more!

They'd be great for beginners as they are not as intimidating as some of the other restraints on here but also for those who incorporate bondage already as they really do make you feel special even if you are tied to a bed.

Try them with the matching blindfold and you really won't be disappointed!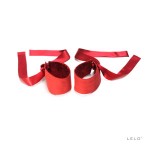 $45.32
You may also be interested in the following product(s)