Quality

Price

Ease Of Use

Usefulness

Shipping

Best bondage tape I've used.

Review by

Bryce

9/2/14

Very nice tape. Wraps and conforms very well and doesn't have the tendacy to roll sideways on curves like lighter weight wraps. This tape will tear by hand but is quite tough and you'd likely prefer to use a pair of scissors to cut it. If wrapping the eyes, be aware that this tape is slightly translucent and two or more overlapping wraps are required to completely block vision.

The tape adheres to itself very well and doesn't stick to skin or hair at all.

All in all, my subs vastly prefer this tape to other bondage wraps that we've used.

Have fun!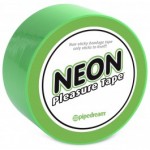 $46.95
You may also be interested in the following product(s)
| | | | | |
| --- | --- | --- | --- | --- |
| | | | | |