Quality

Price

Ease Of Use

Usefulness

Shipping

Orgasm intensifier

Review by

Cornish

9/11/13

Ordered this from one of the SexToysBrand offers. The product arrived quickly and was discreetly packaged.

The anal beads are made from a reasonably hard plastic with a loop handle on the end for you to keep hold of so they don't get lost!

Me and my partner have had anal sex and used butt plugs before so we are not anal novices but I fancied giving anal beads a go and liked that these were back to front compared to other beads (largest bead first).

The beads are easy to insert due to being made from plastic and also so easy to clean. I kept the plastic packaging to store them in to keep them clean and ready to be used again straight away.

Overall I found that using the anal beads made my orgasm happen more quickly and last a lot longer, what's not to love?!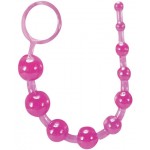 $5.47
You may also be interested in the following product(s)